Electricity Fundamentals for Customer Service Reps. is a training course for CSRs (and other staff) on essential concepts about electricity and utility operations. This helps participants better explain to consumers the reasons for charges on their bills, what factors affect utility costs, and critical issues during power outages. The four-part training is delivered in 90-minute sessions in sequence. By presenting training in short sequential sessions,it allows employees to carry-on their normal responsibilities before and after each session.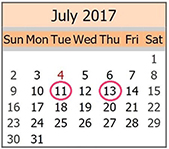 Beginning on July 11th, participants gather on the phone for the 1st live session in the morning. Training is delivered as participants follow-along with the visuals (sent in advance). The 2nd part of the course is presented that same day in the afternoon. During each live event, participants can ask instructors to pause and clarify key concepts, or spend more time on critical topics.

Next on July 13th, the 3rd part of the four-part series is presented. This morning session of 90-minutes incorporates added instruction of more complex topics which builds upon concepts presented in earlier sessions. The 4th and final portion of the course is delivered in the afternoon, and specifically helps address the most common consumer questions.

The full agenda, registration costs and details on the teaching format is found on the Course Flyer.

There is no travel involved because each of the four live sessions combine a telephone conference call with visuals, sent to participants prior to the training (PDFs). More of your dollars go to employee development rather than travel.

• How to Register: To keep things simple, just list the registrant(s) using our Course Registration Form. Then press "Submit" and we will follow-up to confirm options for payment and other details about the Course. Or feel free to call (937) 302-8850 . . .